Hard to Fit Contacts from Our Eye Doctor in Falmouth
In an ideal world, everyone suffering from a refractive error would find the process getting contact lenses as simple as "buying off the rack," with one type of lens equally suitable for everyone. Unfortunately, every pair of eyes has its own specific issues, and that often means seeking more specialized answers for your corrective vision needs. Here at Advanced Eyecare Specialists, our eye doctor in Falmouth can determine what kind of hard to fit contacts will work best for your hard to fit eyes.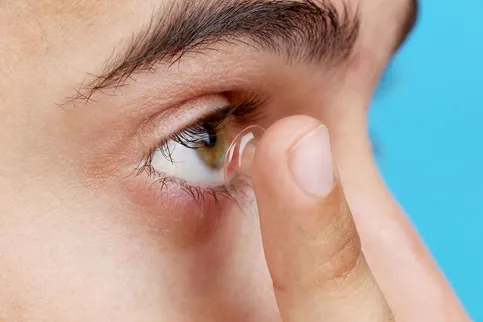 When Ordinary Contact Lenses Won't Do
The easiest vision issues to correct with contacts lenses are simple cases of farsightedness or nearsightedness, with no complicating health issues or sensitivities to worry about. Many people are indeed lucky enough to get away with standard soft contacts for their corrective needs, especially while they're under the age of 40. The rest of us need a little more help due to factors such as:
Presbyopia, a focusing problem that affects most people beginning in their 40s
Allergies and sensitivities such as giant papillary conjunctivitis (GPC)
Dry eye syndrome, which can be made worse by the wrong kinds of contacts
Refractive errors caused by corneal irregularities such as keratoconus and severe astigmatism
In these cases, you may need more than standard contacts can provide. Dr. Sajban can make this determination with the aid of a contact lens exam. By considering your underlying health, specific refractive error, and degree of vision trouble, we can figure out exactly that kind of specialized contact lenses you might need.
Contact Lens Options at Advanced Eyecare Specialists
Don't worry if our eye doctor in Falmouth informs you that you require hard to fit contacts. Our clinic has a wide range of contact lens options to choose from, enabling us to address practically every vision correction issue. We can offer:
Toric contacts specially designed to correct for astigmatism
Scleral contacts for severely irregular corneas
Multifocal contacts for our patients with presbyopia
Rigid gas-permeable contacts that offer spectacular vision correction for even the strongest prescriptions
Hybrid contacts that combine a comfortably soft rim with a rigid center
Contacts made of special materials that reduce sensitivity problems or dry eye irritation
Dr. Sajban Has the Specialized Solutions You Need
You can enjoy all the convenience of contact lenses, even if your eyes pose some extra challenges in the fitting process when you rely on Advanced Eyecare Specialists to address your special needs. Call Dr. Sajban in Falmouth at (508) 444-8691 to schedule vision testing and a contact lens exam!